Deep plowing of peanuts can increase production
April 22, 2019
There are four main reasons for the deep plowing of peanuts in winter than in conventional farming in the spring:

1. After deep plowing, the mature soil layer is thickened by 8-15 cm and turned over to the upper part of the raw soil. After a winter freeze-ripening process, nutrients are released, and the entire soil structure is loose, which is conducive to the distribution of the lower bar and root system of the main root of peanut. Enhance the ability to absorb water, and lay a good foundation for multiple results and fruit filling.

2. After the ploughing, the surface of the soil is uneven, which can fully absorb the rain and snow in winter and spring, and store enough planthoppers to ensure the normal growth of seedlings in the case of drought and early drought.

3, due to deep loose soil, after the heavy rain, the water seepage, so that the upper moisture content decreased, reducing the rotten fruit.

4. Deep plowing in time before freezing can bring down the ground pests and insect pests. After snow and ice are frozen, a considerable number of pests are killed, which can reduce the damage in the coming year.

Our company has been in this line of business for more than 13 years, with its location superiority and rich experience, the garlic and ginger are our main products. As we all know, jinxiang is famous for garlic around the world, our factory of garlic also located in jinxiang. We are committed to consistently providing fresh, safe, high quality garlic from the planting, processing and cold-storing. We operate and control strictly from planting and processing to supply superior quality and nature products. Honest, top quality, best service, our company earned the good reputation from our customer and established the long term relationship with the customer all over the world.Except Fresh Garlic ,we also supplied Fresh Ginger , Air Dried Ginger , Fresh Onion , Peeled Onion , Fresh Chestnut , Sweet Corn , Fresh Taro , Fresh Potato , Fresh Baby Mandarin, Fresh Red Grape, Fresh Pomelo , Fresh Ya Pear Chaotian Chili , Paprika Powder , Fresh Apple and so on.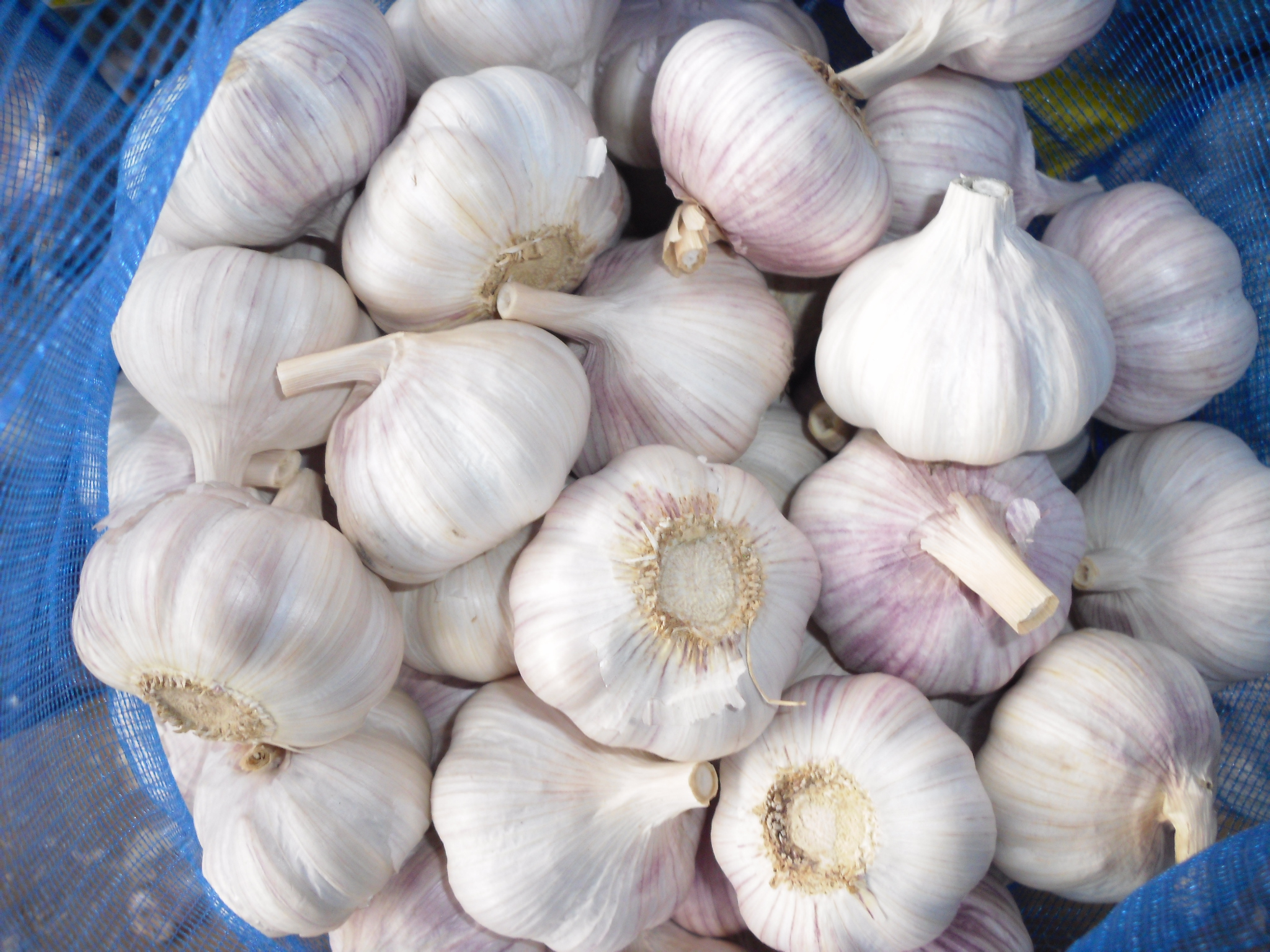 Name

Normal white garlic

Size

4.5cm,5.0cm, 5.5cm, 6.0cm, 6.5cm,7cm and up.

Place of origin

Jinxiang, JiNing, Shandong, China

Edibleness

Reducing bacteria, keeping the heart in good condition and immunity.

Certification

SGS;GAP

Supply period

The whole year

Fresh season: early June to mid September

Cold storage season: September to next June

Standard

Class A(suitable to export)

Packing

Loose Packing:

5/6/6.5/7/8/9/10/20KG MESH BAG;
5/6/6.5/7/8/9/10KG CARTON


Small Packing:

120Gx40/4.8KG CTN, 160G*40/6.4KG CTN, 200gx20/4kg CTN with pallet, 240G*42/10KG CTN , 300G*34/10KG CTN ,400Gx20/8KG CTN, 500Gx20/10KG CARTON, 900Gx10/CTN,1KGx10/10KG CTN,

4P 200G*12/2.4KG BAG,250Gx20/5KG BAG , 300Gx8/2.4 BAG ,

500gx10/5kg MESH BAG,10P 100G*10/8KG BAG,

Quantity/conveyance

26/27/28/MTS FOR ONE 40RH CONTAINER

Shipment degree

-3°- 0°C

Delivery time

5-7 days after got buyer's deposit

Shipment port

Qingdao Port of China

Main importing Country

UK, Greece, Poland, Russia, France, Norway, Turkey, U.A.E, Kuwait,

Algiers, Arabia, Bangladesh, Thailand, Malaysia, Brazil, Canada, America
Normal White Garlic 4.5-5.0Cm,Natural Garlic,White Garlic,4.5Cm Normal White Garlic

Jining Fuyuan Fruits And Vegetables Co., Ltd. , http://www.fuyuanfv.com